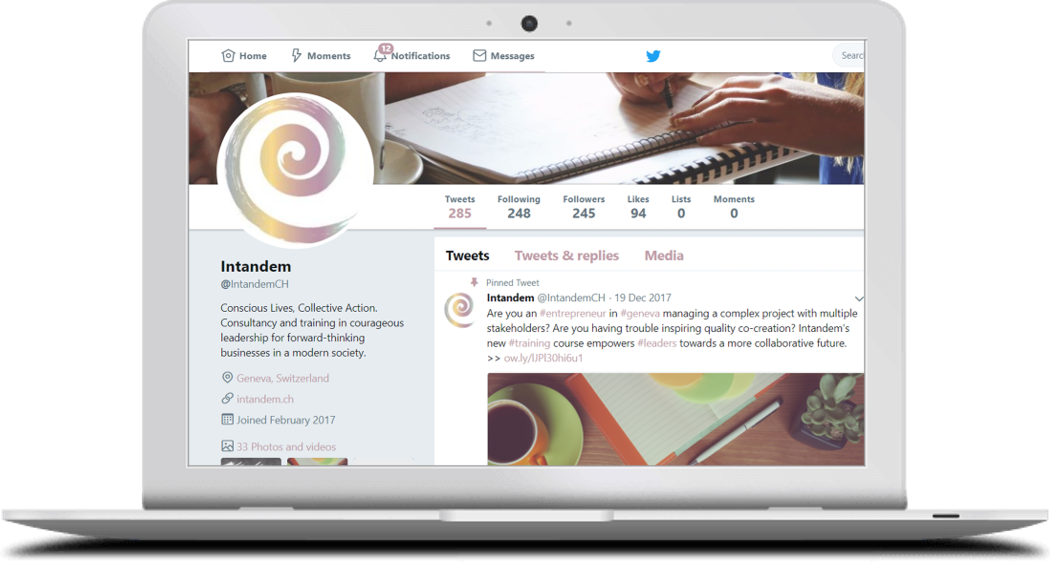 project 7
For this commission I helped my client develop a 'starter' social media strategy that aligned with the company preferences and catered to best industry practices. A highly successful structure of service, it is one I have continued to offer.
I set Intandem up with Twitter, Facebook and LinkedIN as a base, and ensured that all platform links were placed on the website and included in any and all communications from the company. I set each profile up with graphics and biographies, and changing colour schemes to match the company's website and logo.

     COMMISSION
            Social Media / Promotional Graphics
Intandem engages me on a monthly basis to curate content for their social media platforms, which I often schedule using Hootsuite and SocialBee. I use analytics to determine best posting times and to target the intended audience, and I never neglect the use of hashtags and imagery to boost engagement, posting a mixture of news, promotional material, and miscellaneous questions and ideas.  I also spend time networking on several platforms, connecting with industry professionals and growing the audience. I often create graphics to go along with the promotional material that I post, which helps to increase engagement and click-through rates.
"Tess's knowledge of software and computer graphics coupled with her artistic ability enable her to provide lively, attractive media traffic on all platforms. Her technical knowledge is first rate and she can create websites and social media platforms from scratch using her creativity to reflect the image one wishes to project. In summary, I can recommend Tess's technical and artistic skills to provide a professional and innovative social media presence."
Get in touch
Message me today to discuss your needs or for a free quote.
Business Hours:
9am – 5pm GMT Weekdays